Ema Yasuhara (安原 絵麻, Yasuhara Ema) is one of the main characters of SHIROBAKO. She is employed at Musashino Animation as a key animator.
Appearance
Edit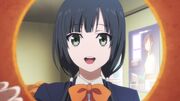 Ema has long and straight black hair that is tied into two small white hairbands and forest green eyes.
In the past, when she attended high school, she usually was seen with her school uniform. These days, she pairs a white button-up shirt with a white and periwinkle coloured pinstripe skirt. A turquoise necktie is accessorised alongside navy knee-highs, a light grey blazer, and black ankle boots. Around the office, she is seen wearing oversized sweaters layered over button-ups.
Personality
Edit
Ema shows a shy personality, especially concerning work that she has personally done. She is timid, self-doubting, and quiet; usually very soft-spoken and meek, but can give great advice when the time is right. Ema isn't very great at conveying her emotions.
Initially, she passes off as someone with low self-confidence in what she does--but with encouragement from fellow colleagues, it motivates her to aspire for more responsibility and acceptance into more daunting tasks that would have been impossible from her point of view.
Ema does not take criticism well. When she received criticism from Misato Segawa about her dull lines and mediocre keys, Ema began to lose her sense of purpose and will for animating. She kept her emotions to herself until she was advised and consulted by Shigeru Sugie and Yumi Iguchi.
Background
Edit
Ema firstly met Aoi Miyamori who appreciated Ema's drawing when in high school. Aoi's passionate convinced Ema to created an anime club with others. The days she and the others created an anime for their school's festival driven her ambition to become an animator. However, her father objected this. To convince him, Ema writes mail every day. Finally, her father agrees, but only support her one year.
After graduating from high school, Ema moved to Tokyo to work at Musani Animation as an animator. After a year and a half, she was promoted to a key animator. Initially, she accepted key work that she thought had deemed minuscule to the contribution of the anime. As time progressed, she began to choose frameworks that she wasn't familiar with yet in order to expand her comfort zone and experience.
After four years, Ema feels more comfortable in dealing with jobs. She also moved to another apartment.
Relationships
Edit
Ema went to high school with Aoi and Ema also works with Aoi at Musani Animation. They work in different departments as Aoi works as a production assistant (promoted to production desk) and Ema works as a key animator.
Midori and Ema both went to the same high school together. They remained close friends and meet up with the other three whenever the five girls have compatible free time.
Sakaki is one of Ema's closest friends from high school. She aspires to become a voice actor. In high school, Sakaki cheered Ema on as she expressed her undying support for Ema's art.
Misa is one of Ema's closest friends from high school. She worked as a CG artist and created wheels and screws, but had recently quit that job in order to keep their promise and pursue her dreams.
Rinko works in the same department as Ema as star key animator, character designer, and was the general animation supervisor of Exodus. She worked in the cubicle diagonal from Ema's and the opposite of Sugie's. Ema thinks of Rinko as her superior or senpai.
Yumi works in the same department as Ema as the general animation and supervisor assistant at Musani Animation. Yumi works in a different set of cubicles just beside Ema's. Ema idolises Yumi as Yumi received a promotion just after two months of working at Musani Animation. Ema also respects Yumi's diligence, speed, and abilities. When Ema began to lose her will, Yumi took Ema out for a walk in a forest nearby the animation studio.
Sugie Shigeru works in the same department as Ema as a senior key animator at Musani Animation. He is not able to draw "moe" styled art and as a result, animated for a children's anime as the staff worked on Exodus!. His cubicle is to the left of Ema's cubicle. He advises consults and tutors Ema. He's also known as the 3 Day Legendary Sugie for his ability to draw a hoard of frames just in a span of 3 short days. Ema holds him in very high respect.
Her name Ema means "picture" and "hemp" in Japanese.
Ema admires the work of animator Horiuchi-san, from Naniwa Animation, who specializes in drawing daily life.
Ema lives alone. She often eats lunch at home.

Her apartment is the only one that doesn't any have air condition of the five girls before the time skip.

Ema drew the best out of the five girls.
Her character, Benzaiten, appears as a decal on her jet in the Season 2 opening.
According to one of the interviews, Ema becomes a freelance animator in the movie.[1]
References
Edit
Community content is available under
CC-BY-SA
unless otherwise noted.