Ema Yasuhara (安原 絵麻, Yasuhara Ema) is one of the main characters of SHIROBAKO. She had been employed at Musashino Animation as a key animator until she quit. After four years, Ema becomes a freelance animator [1].
Character
[
]
Appearance
[
]
Ema is a woman in her early twenties with chest-length black hair that is tied into to parts by small, white hairbands and forest-green eyes.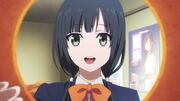 When she attended High School, she usually wore her school uniform. These days, she pairs a white button-up shirt with a white and periwinkle pinstripe skirt. A turquoise necktie is accessorized alongside navy knee-highs, a light grey blazer and black ankle boots.
Around the office, she wears oversized sweaters layered over button-ups.
Personality
[
]
But the future is based on the "present": If the present is bad, you won't be better from that on. As a professional, hard-working is not enough. ~ From Episode 7
Ema is a timid, self-doubting, and quiet; usually very soft-spoken and meek girl in the manga and the anime. She can give great advice when the time is right but usually shows a shy personality, especially concerning work that she has personally done and she isn't very great at conveying her emotions.
Initially, Ema comes off as someone with low self-confidence. However, with encouragement from fellow colleagues and friends, she decides to take on more responsibility and accepts more daunting tasks.
Ema does not take criticism well. When she received criticism from Misato Segawa about her dull lines and mediocre keys, Ema began to lose her sense of purpose and will for animating. She kept her emotions to herself until Shigeru Sugie and Yumi Iguchi gave her advice.
In the movie, Ema is more confident that can give reasonable advice depends on received demands. Despite that, she will still struggle with the problem between speed and quality.
Background
[
]
Ema first met Aoi Miyamori in high school, when Aoi complimented her drawing.[2] Aoi's passion convinced Ema to created an anime club with others. Working on a project with her friends in the anime club inspired Ema to pursue a career in animation.[3] However, her father objected to this, which forced Ema to write to him every day to convince him to let her follow her dream.[4] [5]
After graduating from high school, Ema moved to Tokyo to work at Musashino Animation as an animator.[6] [7] After a year and a half, she was promoted to a key animator.[8] Initially, she accepted key work that she thought would be less important to the project. As time progressed, she began to choose frameworks that she wasn't familiar with, in order to expand her comfort zone and gain experience.[9]
After four years, Ema moves to a new apartment. She also quits from Musashino, becomes a freelance animator.[1]
Relationships
[
]
It's so great that we become friends, after all we can complement each other, right? ~ Aoi Miyamori from Chapter 2
Ema and Aoi are one of the closest friends among characters in the whole work. They have been friends since they were in high school because Ema was encouraged by her passion while Aoi complimented her draw.[10] After graduating, they had been worked in the same studio. Even after Ema quit Musani, they still hold a strong bond between each other.
Ema usually holds an opposite opinion to Aoi due to their different personality. Despite that, Aoi holds optimism view on this because it can complement each other's weak points.[11] Her view was proven correctly later years.
Sakaki is one of Ema's closest friends from high school after Aoi. Shizuka who had decided to be a voice actor from the beginning and disgusted with Aoi's unthinking actions at first. However, Ema's drawings changed Sakaki's option on the animation club.[12] Because of this, Ema highly respects Sakaki's feeling, believed that she will quit the club when anyone failed to finish the club's duty. Sakaki assures that she will never quit the club later, but pleased that Ema speak for her.[13]
Sakaki cheered Ema on as she expressed her undying support for Ema's art.
Midori and Ema both went to the same high school together. They remained close friends and meet up with the other three whenever the five girls have compatible free time.
Misa is one of Ema's closest friends from high school. She worked as a CG artist and created wheels and screws, but had recently quit that job in order to keep their promise and pursue her dreams.
Rinko works in the same department as Ema as star key animator, character designer, and was the general animation supervisor of Exodus. She worked in the cubicle diagonal from Ema's and the opposite of Sugie's. Ema thinks of Rinko as her superior or senpai.
Yumi works in the same department as Ema as the general animation and supervisor assistant at Musani Animation. Yumi works in a different set of cubicles just beside Ema's. Ema idolizes Yumi as Yumi received a promotion after just two months of working at Musani Animation. Ema also respects Yumi's diligence, speed, and abilities. When Ema began to lose her will, Yumi took Ema out for a walk in a forest nearby the animation studio.
Sugie Shigeru works in the same department as Ema as a senior key animator at Musani Animation. He is not able to draw "moe" styled art and as a result, animated for a children's anime as the staff worked on Exodus!. His cubicle is to the left of Ema's cubicle. He advises consults and tutors Ema. He's also known as the 3 Day Legendary Sugie for his ability to draw a hoard of frames just in a span of 3 short days. Ema holds him in very high respect.
Ema's family
[
]
The relationship between Ema's family members is unclear. However, although Ema's father sometimes objects to Ema's ideas, he will support her passions. Ema also talks to her mother regularly and will buy her parents gifts when she can afford them.
Etymology
[
]
The name Ema means "picture, painting" (

絵

e) "hemp, flax" (

麻

ma).

Ema was based on the pronunciation "Ema" in a sentence with a wordplay: "Won't notice other things" (他に考えられない。 Hoka ni Kanga Erare Nai).[14]

Ema's surname Yasuhara means "peace, quiet" (安) (yasu) and "field, plain" (原) (hara).
Trivia
[
]
Character
[
]
Ema admires the work of animator

Horiuchi

-san, from

Naniwa Animation

, who specializes in drawing daily life.
Ema lives alone and she often eats lunch at home.

Her apartment is the only one that doesn't any have air condition of the five girls before the time skip.

Ema draws the best out of the five girls.
Ema's character,

Benzaiten

, appears as a decal on her jet in the Season 2 opening.
According to Mizushima, the apartment Ema lived in the anime timeline is based on the apartment he had living for eight years.[15]
Gallery
[
]
References
[
]
[

]