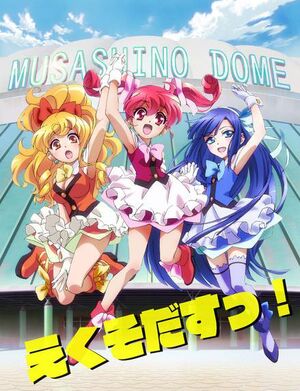 Exodus (えくそだすっ!, Ekusodasuu!) is an anime produced by Musashino Animation in episodes 1-12 of SHIROBAKO produced by Musani Animation and directed by Seiichi Kinoshita.
The first episode entitled Exit Tokyo (出トーキョー, Shutsu-Tōkyō) was released as the first OVA of the SHIROBAKO anime, and was released on February 25, bundled with the 3rd Blu-ray/DVD volume.
Plot
[
]
Summary
[
]
Akane, Aya, and Arupin, the members of the idol unit Tracy, stage a performance at a supermarket, but no one stops to listen to their singing. As the girls redress into maid costumes inside bathroom stalls, Arupin remains optimistic about the reception, pretending the trio is living perfect lives as idols instead of being employees at the supermarket. However, she is scolded by Akane, who chastises her for not facing the reality of their situation.
After comparing the dismal number of their fans to the fanbase of a rival idol, Ginger, they receive a call from a woman they call their "Onee-san", who praises a performance video they sent her. The girls then eat some manjū, which inspires Akane to speak to the trio's manager, Taguchi.
Arupin follows her, but loses her and then finds Taguchi lying dead in a pool of blood. At the crime scene is a bloody knife identical to the ones the girls kept as part of their costumes, along with a partial message written by Taguchi with his blood, beginning with the letter 'A'. Shortly after, Akane and Aya stumble upon the scene as well, then all three are spotted by a man, who assumes they murdered Taguchi and alerts security.
The girls then receive a call from Onee-san on Taguchi's cellphone; she instructs them to flee. Taguchi's murder is assigned to Inspector Miho Koigakubo, who declares the girls wanted criminals. Near Musashino Dome, Akane reveals her dream to sing in Musashino Dome in front of a crowd of fans. They then receive another call from Onee-san, who informs them that they were identified as murder suspects and their fanbase skyrocketed as a result. Seconds later, they are spotted by a fan and retreat to a basement parking lot, where they find a motorbike supplied by Onee-san that they use to flee.
After stealing a policeman's revolver, the girls managed to evade police on a boat, although they wind up losing their makeup in the process, surprising them as they had never seen each other before without makeup. 
Alternate Ending
[
]
Kinoshita, who does not accept the original ending, writes a new ending:
The girls are going to make a concert in Musashino Dome, despite the police continuing to arrest them. During the concert, lots of fans try to enter the dome. And after the song ends, they quickly escape. Luckily, a cowboy with hundreds of horses and their sister in a plane arrives, providing their easy escape.
Characters
[
]
Image
Name and Description
Akane (あかね)


Seiyuu: Mei Nakaharu (CV: Mai Nakahara)

Aya (あや)

Seiyuu: Suzuka Ito (CV: Shizuka Itō)

Arupin (あるぴん)

Seiyuu: Mui Kayana (CV: Ai Kayano)
Music
[
]
Opening: I'm Sorry EXODUS, by Tracy (Mai Nakahara, Shizuka Itō, and Ai Kayano)
Ending:

C Melo kara Ai o Komete

, by Akane (Mai Nakahara).
Staff
[
]
[

]