Kaori Miyamori (宮森 かおり, Miyamori Kaori) is a bank clerk in her hometown and the older sister of Aoi Miyamori.
Character
[
]
Appearance
[
]
Personality
[
]
Kaori seems to be skilled at understanding others personal nature, as she accurately predicts Ema Yasuhara's potential problems based on what she heard from a chat between Aoi and Midori Imai.[1]
History
[
]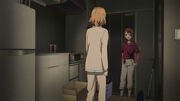 When Aoi Miyamori was a high school student, Kaori introduced Aoi to some jobs when needed.[2]
After Aoi's graduation, Kaori began working at a local bank as a bank clerk. However, she doesn't like her job. Therefore, when Kaori takes a leave one day, she decides to make a trip to Tokyo and tell Aoi about her dissatisfaction with her job.[3] Hearing this, Aoi asks Midori Imai to help. Later that night, when Aoi, Midori, and Kaori are talking about Ema Yasuhara, Kaori cites that people like Ema who are so serious about their work have a vulnerable downside.[4]
The next day, after Kaori explains the meaning behinds "her downside", she plays with Midori and talks about her life and future dreams. In the same night, she meets the other girls in Matsutei. The next day, she leaves Tokyo and goes back to her hometown.[5]
After four years, Kaori has gotten married and had a child. It's unclear whether she has quit her job or not.[6]
Etymology
[
]
Kaori's surname Miyamori means "temple, shrine, palace" (宮) (miya) and "forest" (森) (mori).
Trivia
[
]
Kaori likes leisure activities and alcohols while she dislikes her workspace, complaining that it was not a funny place "at all".
References
[
]
[

]