Jurassic World: Dominion Dominates Fandom Wikis - The Loop
Play Sound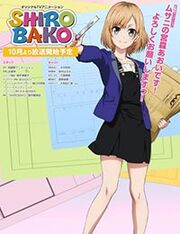 Shirobako (シロバコ, White Box) is a Japanese anime series produced by Warner Entertainment Japan and studio P.A.Works, which handled the animation. The series was directed by Tsutomu Mizushima and aired in Japan between October 9, 2014, and March 26, 2015. A manga adaptation began serialization in ASCII Media Works's Dengeki Daioh magazine in September 2014, and a novel was published by Shueisha in January 2015.
The title "Shirobako" refers to videos that are distributed to the production staff members prior to its release. These videos were at a time distributed as VHS tapes enclosed in white boxes and are still referred to as "White boxes" (白箱, Shirobako).[1]
Plot
[
]
Aoi will never forget how she felt the day her high school animation club's labour of love was shown at the cultural festival. The sense of awe and the feeling of accomplishment that came with completing their very first project are exactly what encouraged Aoi and her club mates to enter the animation industry in the first place.
But two years later Aoi has graduated, and now that she works as a production assistant for a big-name animation studio, the daunting reality of her job has somewhat diminished her enthusiasm. Despite the long hours and the punishing schedule, Aoi still hopes to fulfil the promise she and her club friends Ema, Shizuka, Misa, and Midori made: to one day reunite and make a real animated feature of their own as professionals!
Media
[
]
Manga
[
]
In 2014, an eight-chapters adaptation titled Shirobako: Kaminoyama Kōkō Animation Dōkōkai (SHIROBAKO 〜上山高校アニメーション同好会〜, Shirobako: Kaminoyama High School Animation Club), written by Kenji Sugihara and illustrated by Mizutama, began serialization in the November 2014 issue of ASCII Media Works' Dengeki Daioh magazine sold on September 27, 2014, in Japan.
In 2020, there will be another manga adaptation written by Rina Fujita (藤田里奈, Fujita Rina) and illustrated by Yatomi (やとみ, Yatomi).
Novel
[
]
A 224-page novel adaptation, titled Shirobako Introduction and written by Michiko Itō and Hajime Tanka, was published by Shueisha under their Jump j Books imprint on January 27, 2015.
Anime
[
]
The 24-episode anime television series was produced by Warner Bros. and studio P.A.Works, the latter of whom handled the animation. It was directed by Tsutomu Mizushima and written by Michiko Yokote, with the music produced by Shirō Hamaguchi.
The series aired on Tokyo MX between October 9, 2014, and March 26, 2015, and was simulcast by Crunchyroll. Original video animation episodes are included in the series' third and seventh Blu-ray Disc/DVD volumes, released on February 25, 2015, and June 24, 2015, respectively.
For the first twelve episodes, the opening theme is COLORFUL BOX by Yoko Ishida, while the ending theme is Animetic Love Letter sung by Juri Kimura, Haruka Yoshimura, and Haruka Chisuga. For episode one, the opening theme is "I'm Sorry Exodus" (あいむそーりーEXODUS, Aimu Sōrī Ekusodasu) sung by Tracy (Mai Nakahara, Shizuka Itō, and Ai Kayano).
For episodes 13 onwards, the opening theme is Takarabako -TREASURE BOX- (宝箱-TREASURE BOX-) by Masami Okui, while the ending theme is "Platinum Jet" (プラチナジェット, Purachina Jetto) by Donuts Quintet (Juri Kimura, Haruka Yoshimura, Haruka Chisuga, Asami Takano, and Hitomi Ōwada). The ending theme for episode 19 is "Yama Harinezumi Andes Chucky" (山はりねずみアンデスチャッキー, Yama Harinezumi Andesu Chakkī, Mountain Hedgehog Andes Chucky) by Miyuki Kunitake. Sentai Filmworks has licensed the series for release in North America.
Movie
[
]
A movie sequel is released on February 29, 2020. The story starts four years after the last episode on the anime timeline.
Trivia
[
]
References
[
]
External Links
[
]