Jurassic World: Dominion Dominates Fandom Wikis - The Loop
Play Sound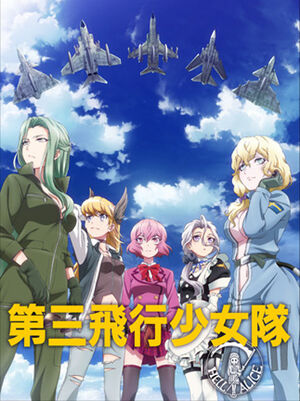 The Third Aerial Girls Squad (第三飛行少女隊, Daisan Hikou Shoujyotai) is an anime produced by Musashino Animation in episodes 13-24 of SHIROBAKO.
Unlike Exodus!, which was an original project, Aerial Girls is based on a popular manga still being written by its creator, Takezo Nogame. This causes difficulties that weren't encountered with Exodus!, as they must not only write an ending for their series, but everything they do must receive the approval of Nogame-sensei, the creator.
The first episode entitled "FALLING ANGEL" was released as the second OVA of the SHIROBAKO anime, and was released on July 29, 2015, bundled with the 7th Blu-ray/DVD volume.
In the movie, studio TITANIC makes the sequel called Third Aerial Girls Squad Medusa (第三飛行少女隊めでゅーさ, Daisan Hikou Shoujyotai Medhusa), which is full of moe and fan services. However, at the end of the movie, Musashino Animation decides to produce another new sequel called True Third Aerial Girls Squad (真。第三飛行少女隊, Shin Daisan Hikou Shoujyotai)
Summary
[
]
Episode 1: Falling Angel

[

]
Four years ago, the enigmatic Builders appeared on Earth, creating mysterious structures known as Pillars, which now cover one-third of the world's surface, and copying technology for their own use before permanently disabling the real devices. The only aircraft that remain operational are those from the 1970s and before.
In the present day, the 307 Aerial Squad, codenamed "Hell Alice", accompanies a jet squadron in an operation to retrieve survivors at the Midway Base, which has been mostly destroyed by a Pillar. The jets engage a squad of Lockheed Martin F-22 Raptor while Hell Alice provides escort for a rescue transport plane. The rescue plane successfully lands on an available runway and is rescued from a barrage of air-to-surface missiles by Japanese pilot Aria Hitotose, an exceptionally skilled pilot of Hell Alice. The rescue team recovers only one survivor, a teenage girl, but they are all killed by a Lockheed Martin F-35 Lightning IIs, which Aria then destroys. She then lands on the runway and checks on the survivor, who is still alive. As Aria puts the girl in the cockpit of her jet, the rest of Hell Alice were ambushed by an experimental Mitsubishi ATD-X. Aria takes off, but the ATD-X follows pursuit with the intent on killing the survivor. Hell Alice's leader, Olivia sacrifices herself to save them both before Aria takes advantage of the explosion from Olivia's aircraft to destroy the ATD-X. After overhearing a radio conversation between two other pilots in the aftermath of the battle, concerning Aria's nickname of "Ice Doll", the survivor comments on Aria's true nature before realizing she has amnesia.
Sometime later, the survivor enlists onto Hell Alice's roster, having taken the name of Catherine Weller. Their next mission is to dispatch a squadron of Builder jets, which are carrying a Pillar Seed, the sole instrument required to create a Pillar.
Ending
[
]
In the manga, Catherine was killed in action. Seeing one of her best friends die, Aria loses her will to fly.
The anime makes the following changes to have a brighter ending: After Catherine was killed, Aria goes to her hometown. In Catherine's hometown, Aria sees Lucy, who is Catherine's sister. To protect Lucy, Aria decides to fly again.
Characters
[
]
Image
Name and Description
Aria Hitotose (春夏秋冬 ありあ Hitotose Aria): The main heroine of the series.

Seiyuu: Kyoko Suzuki (CV: Hisako Kanemoto)

Catherine Weller: One of Aria's best friends.

Seiyuu: Suzuka Ito (CV: Shizuka Itō)

Lucy (

ルーシー

Rushi): An anime original character who is Catherine Weller's sister.

Seiyuu: Shizuka Sakaki (CV: Haruka Chisuga)
Music
[
]
Staff
[
]
Trivia
[
]
Takeshi Nogami, the character design of Third Aerial Girls Squad, makes a Doujinshi book of Third Aerial Girls Squad.[1]
A similar genre anime called The Magnificent Kotobuki was released on January 13, 2019, in which director Tsutomu Mizushima is also involved.
Reference
[
]
[

]